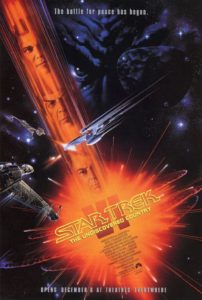 Writer/director Nicholas Meyer saved the Star Trek film series (DOA with The Motion(less) Picture) by bringing back Khan in '82, and co-wrote the second best film in the series, The Voyage Home, so it's no wonder Leonard Nimoy asked him to salvage the world of Trek after Shatner's abominable The Final Frontier. Ideas abounded pre-Meyer. First up, one bandied about for years, in which a young cast would play the original characters in their Starfleet Academy days. For some crazy reason, the old-timers, not being in the movie, weren't so keen on it. Next up Chekhov, AKA Walter Koenig, wrote an outline in which a war with the Klingons results in everyone but Spock and McCoy dying (sounds good to me!). Also rejected. And so, spinning a tale from an idea of Nimoy's, Meyer and co-writer Denny Martin Flinn whipped up a story about an attempted peace initiative between the Klingon Empire and the United Federation of Planets.
"Whipped up" is the operative term here. Depth, subtlety, and logic are not the strong points of Star Trek VI: The Undiscovered Country ('91). Meyer had a longer, more interesting opening sequence in mind, wherein the old crew members, reduced to working normal jobs, are rounded up for one last mission, but it was going to cost too much, so instead the whole cast assembles to hear the plot of the movie before boarding the Enterprise and zooming away to meet Klingon ambassador Gorkon (evil genius David Warner). This scene, plus the opening with Captain Sulu witnessing the explosion of a Klingon moon, are handled with ladlefuls of cheese. The finale, wherein the whole cast bursts into a peace conference and prevents the assassination of the Federation President (Kurtwood Smith made up to resemble an elderly gremlin), is even more replete with Trek-style cheesiness.
In between the beginning and ending is a pretty decent Trek adventure.
But here's the thing. I cannot in good conscience call it a good "movie." Which is to say, if you have no connection to the original Star Trek and its original cast, I don't even know what you're doing reading this, let alone watching Star Trek VI. It's not made for you. It's made for jerks like me who think the original Star Trek is, despite the often wooden writing, directing, and acting one expects to find in even the best '60s television series, awesome.
What The Undiscovered Country is is a great episode of Star Trek. A little long for TV, of course, at just shy of two hours, but in every other particular it unfolds like the TV show. On TV, there's no time for nuanced character development, no time for a mystery unfolding with clockwork logic, no time for carefully constructed dramatic build and revelation. The episodes of the show have a point, usually a moral one, and that's their only real concern. As long as it's made, how we get to it isn't too important. It's TV, after all. TV in the olden days. There's no continuity to worry about, no season arc, no developing subplots, and you don't have a year to write an episode.
So it is with The Undiscovered Country. I kept thinking how scene after scene was sped through too quickly, how I could see what, dramatically, they wanted to achieve, without feeling it, so half-assed were their efforts. "If only Meyer had spent another day writing this one scene," I'd think, "he'd have given the movie a much stronger base to launch his ideas from." But Meyer doesn't work that way. He says he wrote The Wrath of Khan in twelve days. I doubt he spent much longer on this one. For a movie, it's a problem. But for an episode of '60s television? It's perfect. A moral point about peace and conciliation and those who would wish to destroy it is exactly what Star Trek exists for.
The middle of the movie works best, even when its logic is as half-assed as everything else.
The Enterprise, escorting a Klingon Bird of Prey to the peace conference site, seems to fire two photon torpedoes at it, disabling its artificial gravity. Two helmeted, gravity-boot wearing assassins beam aboard, kill Gorkon, and beam away. But the Enterprise fired no torpedoes, claims Scotty. The computers say they're missing two, yet they've been visually accounted for. Based on a mysterious burst of neutron radiation near the ship, they presume another ship, cloaked, fired at the Bird of Prey.
Which is all well and good, but surely, with their computers tracking the torpedo strikes, they'd be able to compute the trajectory of the torpedoes, and thus pinpoint their source? At the end of the movie, when the cloaked Bird of Prey attacks the Enterprise, why couldn't they do the same thing? Track the multiple torpedoes back to their source, thus determining the location and direction of movement of the Bird of Prey, and start firing back? Instead they use an absurd deus ex machina of refitting a photon torpedo with gas-sensors they happen to have handy. So in the 23rd century they don't have, for example, heat-seeking missiles? They have to see what they're shooting at? In space? Really? The Klingon general, Chang (played with gusto by Christopher Plummer), is stunned to see the torpedo shot from the Enterprise actually changing course and heading right for them. Amazing! A torpedo that seeks out a target based on that target's emissions! Whatever will they think of next?
For a science fiction movie, this is really quite stupid. But for a TV episode? Fuck it, it's fine. The show isn't about the scientific logic of missile tech or the simple mathematics current-day calculators are capable of, it's about peace and war, right and wrong, love and hate. The Undiscovered Country is about closed-minded war-mongers fearful of change, who refuse to accept even the possibility of peace. It's a metaphor for the cold war, for the U.S. and the Soviet Union.
It's also about Shakespeare. Meyer, once he'd cast Plummer as General Chang, gives him an endless string of famous Shakespearean quotations. Given that it's Plummer saying them, it's fine. Might have been better if Plummer's character was given anything else to do or say, but again, this is an episode of TV. No time for exploration of character. Plummer can act circles around Montalban, but Chang is paper-thin compared to Khan.
Kim Cattrall plays a young Vulcan, Valeris, graduated top of her class, Spock thinks of her as his protégé, wants her to replace him when he retires. If you're uncertain who the traitor aboard the Enterprise is, I'm guessing you've watched little filmed entertainment in your young life. When all is revealed, and Spock wants info from her, he puts his hand on her face for a Vulcan mind-meld. Which to me came across as a kind of brain-rape scene. I guess having her say, "Stop. This is illegal," wouldn't have played so well, but allowing Vulcans to molest your mind seems like something someone would have passed a law against.
Iman shows up on the prison planet Kirk and McCoy are sent to when the Klingons find them guilty of murdering Gorkon. The trial being another scene made for TV. It's almost, but not quite, played for laughs. My favorite part was the Klingon lawyer doing his best to mount a defense. A regular Atticus, this guy. But so anyway, turns out Iman isn't a sexy model, she's a weird-ass, shape-shifting alien, so shape-shifty her clothes morph along with her body. Is it any surprise she turns herself into Kirk, setting up a Kirk-on-Kirk wrestling match? I think not. I think Meyer was reminding keen viewers of Shatner's fabled dual role in the '68 cowboy classic, White Comanche, in which Shatner fights himself in a finale for the ages.
While I'm fond of Koenig's idea for a last hurrah that includes alien slug monsters killing most of the cast, I can see why they went with something a little more kind and loving. The movie ends with Kirk ignoring Starfleet's order to bring the ship home. Asked where they're heading instead, he quotes Peter Pan's line, "Second star to the right, and straight on till morning." Which means all this time, Kirk knew how to get to Neverland, and didn't tell anyone! Thanks, Kirk, you old bastard.