Are YOU one of the top ten films of 2014? If you have character, direction, debatable conclusions, and few or no exploding robot superheroes, chances look good!
Because 2014 — I now officially declare — was a good year for good movies.
Trying to choose the top ten films of 2014 is like trying to choose which of your children are your favorites, if you have over a hundred children, some of whom you've never met. (I'm not judging you; it's just an analogy.)
Yes, as I moseyed back through the last year of Stand By For Mind Control posts, I kept feeling astounded that I'd forgotten about so many marvelous films. So. Many. Marvelous FILMS. Way more than ten; but the gods have spoken and ten is the number and the number, it is ten.
So I'll give you twenty.*
Before we get to the ten that made the cut, here are the ten that didn't — some by only a scant margin. See them. Think about them. Get them tattooed on your genitals. Send me stacks of cash money.
The Almost Top 10 of 2014: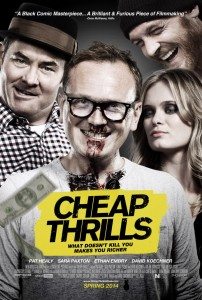 This year was extra wonderful for weird little movies. Smaller 'indie' films tend to be fairly crap, or at least overrated, but that wasn't the case with Cheap Thrills, Coherence, God Help the Girl, or A Girl Walks Home Alone at Night. All four films surprised me with something far from formulaic. They are, in order, a horror-thriller, a sci-fi character drama, a musical twee-fest, and an undiluted hallucination — surely at least one of those genres appeals to you? Do yourself a favor and seek out at least one of them. They didn't swamp theaters but they're all available (or will be soon).
Documentaries, also, were excellent in 2014. It's somewhat amazing to me that Citizenfour didn't make my top ten, as it may be one of the most important films of this generation — although it wasn't so much cinematically. Art and Craft also did a marvelous job of introducing the world to a subject stranger than fiction, and did so in a way that made me ask big questions with a lopsided grin.
The One I Love, Locke, and Under the Skin; all three of those films combined big performances and small budgets in casseroles of bold choices. They didn't quite qualify for this year's top ten, but I recommend seeing all three to experience some of 2014's most interesting discussions of what it means to be human. In this cluster, I'm going to also include Calvary, a film that hit me squarely off center, but which lodged in my mind for days afterwards demanding I think about it.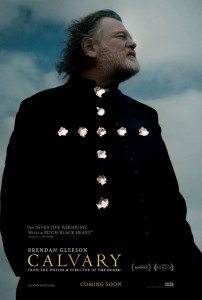 Be quiet Calvary. I will think about you again soon.
That's nine non-top ten films and my tenth is The Edge of Tomorrow. In a year swamped with big budget superheroics, my hat's doffed to Tommy Cruise and Doug Liman. It's depressingly hard to produce a refreshing, exciting, non-moronic summer movie but they pulled it off. Most of you will be giving that particular nod to Guardians of the Galaxy, but Edge of Tomorrow was leagues better — funnier, more thrilling, far better scripted, explody-er, and with superior performances. Yes. That even includes Tom Cruise, who is very good at being Tom Cruise. Supreme Being didn't care for the film's ending, but upon reflection, I think it did the trick.
And, now, preamble done ambling, let's top ten the heck out of this mofo!

Jim Jarmusch is one of the reasons I love cinema. Down by Law, Dead Man, Ghost Dog — these works of his are among my favorite films. While his latest few might not have fully penetrated my membranes, Only Lovers Left Alive surely did. Like lazy lightning, this artist-as-vampire tale imparts shock and glow to the mundane (in this case, Detroit).
Tom Hiddleston and Tilda Swinton manage to rescue the idea of vampires from the Twi-hard teens and Jarmusch creates something that's hard to find in film houses these days: actual art. Only Lovers Left Alive bleeds color and oozes ideas and, ever so slowly, threatens to turn you to dust.
The film is its own antidote, though, exposing a life of eternal ennui and simultaneously providing us with the right dosage of healing serum. It's charged with the life blood of creation: good goddamned movies.

The Rover is one bleak sumnabitch and that makes me gleeful.
This is a film that tastes like a gasoline-soaked cigarette. Guy Pierce and Robert Pattinson dredge up potent, unpleasant performances on the road towards one the most misguided attempts to make things right I've ever seen.
C'mon down to anarchic, apocalyptic Australia and don't forget your angry face. You're going to need it to survive David Michôd's meditation on the violence that consumes our lives — and the substance which violence supersedes.
The Rover looks and feels fantastic. Michôd understands what cinema is for and doesn't shy away from laying it out with a bullet in its head. So yes; The Rover makes the list. The only reason it's not a few rungs higher up is the ending, which isn't wrong, but didn't feel quite right either, tonally.
Still. Fwoah. I hope Fury Road captures just a glimmer of this film's snarl.

Asghar Farhadi's The Past (Le Passé) wasn't quite as good as his previous film, A Separation, so that's why it's only the 8th best film of 2014. Like A Separation, Farhadi's latest snugs into your life like any other beat of your heart. It's so natural, so present, so real and unreal that seeing it is pretty much like living it.
I'm in awe of this director's command of emotion. His nuances have nuance. His questions make you short of breath and if they have answers, you better serve 'em up yourself. The cast of The Past is flawless, and none more so than Elyes Aguis, who plays the young Fouad — maybe he's ten?
I'm giving him Best Supporting Actor right now because I doubt anyone else will.

Now I realize that my Top Ten has taken a detour into the depressing and dramatic, but that doesn't mean Ida isn't a masterpiece. Attention all film school nerds: come sit at the feet of Pawel Pawlikowski's feature and understand contrast, composition, and, ultimately, the illusion of consequence.
This film tells the tale of a young Polish woman who, about to take her vows as a nun, discovers she has family and that family is Jewish. What's left of her family is, at least, as all but one were killed during the Holocaust. From her cloistered world outside of time, Ida submerges herself into 1960s Poland and the strain of life.
While that sounds portentous and painful, Ida isn't at all. It's about a world of beauty and the tendrils of reality that encroach into it. There is pain, and knowledge, and constraint, and — in Ida — all of that is beautiful.

If you do not go to see Whiplash, then J.K. Simmons will need to throw a chair at your head and he's got decent aim. You've been warned.
Damien Chazelle's first non-student feature left me percussed for hours, mumbling incoherently about torture porn love stories. Whiplash is self-inflicted suffering in the pursuit of success and, as such, fits somewhere between Black Swan and Full Metal Jacket. It's not Kubrick, but Chazelle knows how to drop the hammer on our fragile sense of stability. Potent; that's the word for Whiplash.
It's also worth loving just for J.K. Simmons, who's going to win big for his monstrous turn as the crucible named Fletcher. If you're at all like me, Whiplash is going to make you addictively listen to jazz drumming for weeks.

Ben Wheatley's A Field in England is exactly the kind of period drama I appreciate: one in which everyone is pumped to the gills on psychedelic mushrooms, armed, and oh-so very lost. So very lost in their pursuit of things that can't be found, mightn't exist, and which they've almost got in their fingers.
It is, at its most basic level, exceptionally evocative and visually confounding. The characters — including newish favorite of mine, Michael Smiley — take archaic language and use it to spin webs you won't so easily escape. All the slim production's elements combine in a building, burbling cauldron of music, noise, vision, and cathartic chaos. A Field in England is a maelstrom of awesome.
It may be the trippiest film I've ever experienced and it's likely one of the best midnight movies of all time.

Nothing could make me happier than having Wes Anderson go full-on Tetsuo on cinema screens this year, releasing what is clearly his best film since Rushmore. I know — you all love The Fantastic Mr. Fox and The Life Aquatic with Steve Zissou and Moonrise Kingdom. I did not. Anderson's untempered style defeated itself in those pictures, keeping me and the world we live in at arm's length with excessive kitsch.
But The Grand Budapest Hotel pushes so far past reality we end up in a wonderland of whimsy. The film is just so damned enjoyable I'll be damned if I don't enjoy it. Ralph Fiennes is funnier than anyone would have thought possible, the nested levels of production design and plot snug together perfectly, and basically: yes. Just exactly what the doctor ordered, assuming it's a doctor in a Wes Anderson film.
Grand Budapest got a little over indulgent — even for Anderson — by the end, but the film is so charming it's hard to really care. If what you're looking for is unbridled entertainment: this is the film of the year.

So that's the kind of year it was: the kind where a film made over a dozen years, in which you get to watch a child grow into a man — where the only make-up effect used is time — comes in as the third best.
Richard Linklater's Boyhood expands the definition of what a film can be. Like his Slacker before, and to a lesser degree A Scanner Darkly, this film doesn't bother addressing your expectations; it instead buries itself as deeply into the business of being alive as its writer/director can manage. Plot? Who needs a plot when you've got character development oozing out of your pituitary glands?
Mason (Ellar Coltrane) starts the film as a six-year old and ends the film in college. Alongside him, his sister (Lorelei Linklater), mother (Patricia Arquette) and father (Ethan Hawke), all age in the kind of synchronization that can't be faked. You thought Benjamin Button was amazing?** Hah, I say. Hah! This is amazing, and powerful, and, yes, sometimes slow and meandering — but more than anything else, amazing. Which I may have mentioned. Linklater's script is uncanny in its accuracy.
This is a film that people will watch and discuss for as long as movies are made.
** You were wrong: it sucked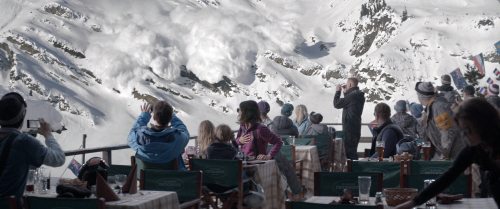 Here, in the penultimate slot, comes Force Majeure — the film I told you that you would most regret missing this year. In retrospect, I was right. This was undoubtedly the best film the fewest of you saw in 2014.
Swedish family on vacation in the Alps dealing with the loss of their protective illusions? Doesn't really sound like a good night out. No action sequences. No salaciousness. No impossibly hot young thing to get your blood going. No explosions… or wait. Yes. Plenty of explosions. Boom boom boom go the avalanche cannons. Down comes the wall of snow. Boom boom boom goes the noise in your head, as who you think you are and whom you're revealed to be end up knocking noggins like angry rams.
Force Majeure does that delicate thing where it shows you exactly how you're broken (whomever you are), and manages to make your flaws funny. Not rolling on the ground, soiling your knickers funny, but little animals running around in your head building nests funny. There will be plenty of eggs in your head nest after you watch Force Majeure, and yet still, after I've told you a second time, and named it the second best film of the year, still you won't see it.
You're hopeless.

Nightcrawler is, without a doubt, the best Marvel superhero film to have come out this year, or ever. Jake Gyllenhaal's take on everyone's favorite blue-furred, teleporting, Germanic X-Man is so delicate, he doesn't even need to bother with the blue fur or the teleporting stuff — which, frankly, is kind of stupid anyway. Nor does writer and first time director Dan Gilroy bother with the rest of the X-Men. This one is more of a spin-off.
It is a spin off into the crepuscular amorality of media-infused Los Angeles. And away we go!
Nightcrawler is the right film at the right time made the right way. If you have to delude yourself into thinking it's a Marvel superhero film to see it, that's no skin off my buttocks. Frankly, Lou Bloom (Gyllenhaal) is kind of a superhero — the kind who's going to leap tall obstacles regardless of whose irritating life gets in his way. He's going to show you all the misery you've been clamoring for, so just hold your goddamned horses. It's his job, his calling, his raison d'etre, which he's just discovered: he's a stringer for the TV news and, as he likes to say, "If you're meeting me it's probably the worst day of your life."
And, potentially, also the last.
Of all the films I saw in 2014 — many of them mind-blowing, or uncomfortable, or delightfully devious, or all three at once — Nightcrawler clearly takes the cake, and then makes you watch as it eats it, your cake, and isn't it delicious? Would you like some of your cake? A taste? Too bad.
Nightcrawler is the film 2014 deserves. It is our Network, our American Psycho, our Sweet Smell of Success.
It is also my favorite film of the year.
Now. I fully expect you to tell me how I'm wrong in my inclusions and exclusions and rankings, as that's how we learn, through dialogue and fisticuffs. Also, with the trolling. Now please go see all of these movies. Thank you.
* DISCLAIMER: This list only includes films officially released in the U.S.A. in 2014, even though most of us didn't get a chance to see Inside Llewyn Davis or Her until this year. Those pix already had their Oscar shot and thus forfeit their chances to make a second splash now. There will likely be a few films that get released in NY and LA in the final weeks of 2014 to qualify for the coming Academy Awards, and I won't get to see some of them until 2015, when those films will not qualify for next year's list because stupid Hollywood argy bargy pththhhhpppff.